We are sure the first thing that will come to your mind when you hear the Czech Republic is Prague and beer. But that is not all. This country is full of wonderful people, beautiful nature, the most charming cities, and small villages and an amazing atmosphere. Trust us you won't regret seeing it all. 
As you know Prague is the Capital. It is a famous city all around the world for its historical monuments and unique atmosphere. Being only about 300 kilometers away from Zlin, it is really easy to go there just for a weekend, or even a one-day trip. It is especially beautiful before Christmas time when the streets are decorated and there are Christmas markets on the squares.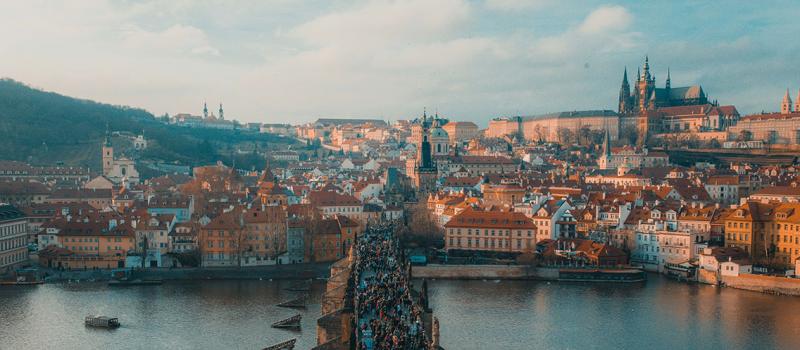 Of course, Prague is not the only place worth visiting. We definitely recommend seeing Český Krumlov, Olomouc, Brno, Kútna Hora, Karlovy Vary or if you are lover of nature then definitely Krkonoše national park. Those are just a few places to see. But we are assuring you there are many, many more here.  
What you might find useful is the information about prices here. Compared to many other European countries, the Czech Republic is a quite cheap place. For one euro you can buy a loaf of bread or a beer in a pub. Sometimes beer is even cheaper than water. Do you need more reasons to come after this? We have more!
Transportation here is amazing. We have trains and buses running from and to every corner of the country. Public transport into cities is accompanying them perfectly. So you don't have to worry about getting anywhere in time, even when you will miss your train or bus there is probably another one going in 20 minutes.  
As for climate, we always warn our incoming students, especially those from the South, about the winters we have here. Sometimes the temperature falls below minus 20°C. Therefore, it doesn't matter if you are arriving in September or in February. Be sure you take some warm clothes with you because the cold weather usually hits between December and February. But you can survive it, even cold has its charm.
So come to the lovely Czech Republic and see all of this for yourself. We are looking forward to meeting you and showing you all that the Czech Republic can offer.